Grizzly Bear Hunts

Our hunting areas are home to the world's largest grizzly bears!
Since 2002, our clients have taken numerous high-scoring Grizzly Bear. We hunt in an area with the largest Grizzlies in North America. Just Southeast of Nome, Alaska, along the Norton Sound Coast, our hunts begin when the ice goes out in early May and Bears begin to water the beaches in search of food and mates.
What to Expect:
Our camps consist of wall tents with wood burning stoves. The weather is very unpredictable and medium to heavy snowfall may occur during each hunt with temperatures ranging from -20ºF to 70ºF. Grizzly bears are dangerous. Hunter should be prepared for an exciting hunt!
3 (11 Day) Hunts are available:
May 15-25
May 25 – June 4
June 4-15
One grizzly bear can be taken per year in each of our areas.
Transportation:
Boats are used for our May and August hunts. The terrain is rugged, so hunters should be in good physical condition.

Grizzly bears are hunted in three areas; the Koyukuk National Wildlife Refuge (KNWR), Western Alaska, and near Unalakleet, Alaska.
Additional Expenses:
When planning a grizzly hunt, the hunters should plan on the following additional expenses:
$150 Alaska Professional Hunters Association, Inc. Alaska Non-Resident Hunting Preservation Fund fee
Roundtrip airfare to Anchorage, AK.
Round trip airfare from Anchorage to the 'Bush' is approximately $500. Excess baggage over 50 pounds is approximately 80 cents per pound additional. Hunter is responsible for freight and trophies to Anchorage from 'Bush'.
Possible 2 to 3 days lodging and food in Anchorage, approximately $150/day. In April, lodging is $90/day.
Shipping trophy and meat to home or taxidermist is usually $200 – $1,200.
Non-hunting companions will be charged $3000 for a 10 day hunt
and $2000 for a 5 day hunt.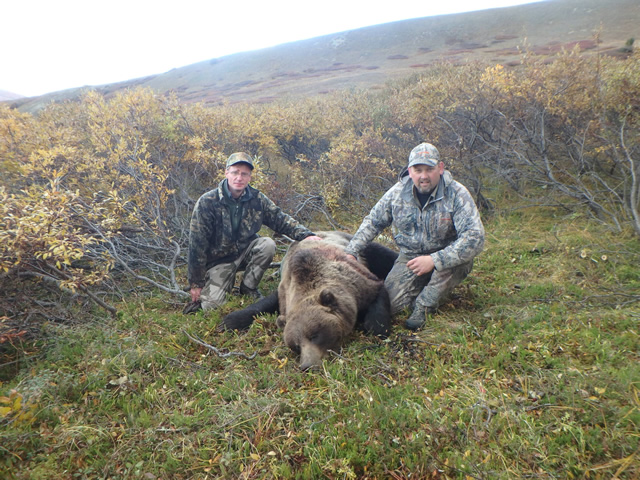 ---
FISHING
Fishing for a variety of species is available during our May and August hunts. Fishing poles are available but serious fisherman should bring their own tackle.