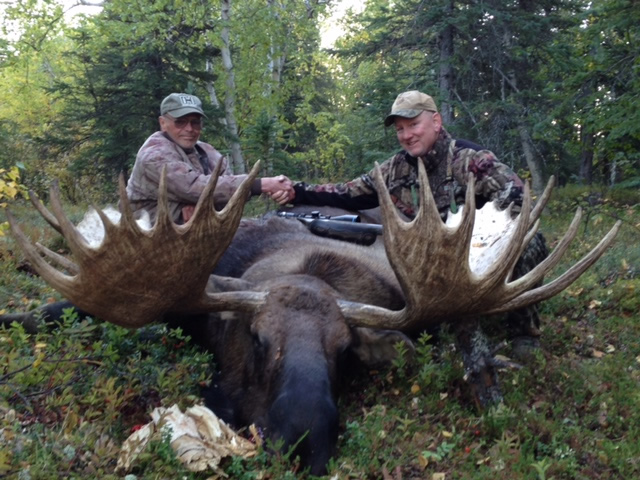 Virgil Umphenour moved to North Pole, Alaska in the spring of 1971 shortly after returning from Vietnam. He began hunting and fishing throughout Interior and Western Alaska shortly after arriving in the state and started guiding in 1987.
In 1991 he founded Hunt Alaska, which is headquartered in Fairbanks. He took two of his children, Eric and Shelbie with him at early ages hunting, fishing, and trapping. Eric harvested his first dall sheep at age 12 and Shelbie took her first dall sheep at age 13.
Virgil and Eric are both Master Guides.
Hunt Alaska hires guide personnel who are long time Alaskans and, in many cases, they live in the areas where we hunt. Their expertise and knowledge of the animals and areas contributes to the success of our clients in taking many record book moose, grizzly bear, wolf, black bear, and Dall sheep.
Virgil has the exclusive concession for approximately 3,000,000 acres of the Koyukuk National Wildlife Refuge. The Refuge is home to the world's largest moose. Adjacent to the Refuge are two areas which extend west all the way to Norton Sound, a distance of over 200 air miles. This area is home to record book grizzlies.
Eric Umphenour has two guide areas southeast of Fairbanks. One is in the Alaska Range and the other is in the Tanana flats north of the Alaska Range. Hunt Alaska has long term land leases from the State and has built two cabins which serve as base camps. The cabins are approximately a three hour ATV ride from the nearest airstrip. Our substantial investment in boats, snow-machines, and ATVs enable us to access and operate in very remote areas.
Virgil Umphenour has been guiding professionally since 1987 and founded Hunt Alaska in 1991. He grew up in a family of avid outdoorsmen in the small mining town of Miami, Arizona. Family outings and hunting trips were annual events.
After high school, Virgil joined the Marine Corps. After a tour of duty in Southeast Asia, he returned home and joined the Arizona National Guard. Virgil served on active duty as an Infantry Officer receiving advanced training as Ranger, Airborne and Sniper instructor activities. In 1970 he became the first Commanding Officer of the US Army Sniper Unit, America Division in Vietnam. Following his release from active duty, he moved to Alaska, where he became Commander of the Fairbanks Army National Guard Armored Cavalry Troop Company in Fairbanks.
Virgil is actively involved in the regulatory aspect of hunting and fishing issues. He has served on the following State and Federal boards and commissions:
Fairbanks Fish and Game Advisory Committee, 2003-present
Regional Advisory Council to the Federal Subsistence Board, 2001-present
US/Canada Salmon Treaty Negotiating Team, 1988-present
Board of Directors, Alaska Seafood Marketing Institute, 2002-2004
Alaska Board of Fisheries, 1994-2002
State Shooting Range Committee, 1979-1982
In addition to the hunting operation, Virgil and his family have owned and operated Interior Alaska Fish Processors, a
Specialty retailer and wholesaler of gourmet smoked salmon products in Fairbanks, Alaska, since 1984. Interior Alaska
Fish Processors also offers custom game and fish processing.
About Master Guide #M184 Eric Umphenour
Eric has been hunting with Virgil since an early age. He harvested his first big game animal (a Dall sheep) when he was 12. In 1998 he earned his Master Guide  license and now conducts the majority of the Dall sheep, moose, wolf, and bear hunts in the Alaska Range. Many of his hunters have harvested record book animals. Eric guided Dennis Dunn to his Pope & Young world record grizzly bear featured on our web site.
Eric is an expert meat cutter and sausage maker, having served as head meat cutter for Interior Alaska Fish Processors in Fairbanks, Alaska since 1996. Eric is also a commercial fisherman, operating a fishwheel on the Tanana River in Fairbanks.
Eric is an avid outdoorsman. He is an experienced snow-machine, four-wheeler, and boat operator. He and his friends build 2 hunting cabins in the remote area of the Alaska Range used for hunting during August and September.
Eric attended Delta State University in Cleveland, Mississippi on a swimming scholarship and earned an associates degree in meat processing and marketing from Texas Technical College in Waco, Texas.
Virgil: 907.328.8857
Erik 907.978.7344